Did you know you can import patients from a spreadsheet into a Vision 3 patient Group?
This is done from the Patient Group Import Vision 3 app and is especially useful for processing data received about a group of your patients for example, a list of immunisations given at schools or in nursing homes by third parties.
From the Vision 3 front screen, simply select Apps Controller - System Utilities and then select Patient Group Import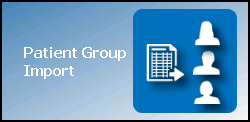 .
See Apps Controller Help Centre - Patient Group Import for further details