We are pleased to announce that we are now ready to start importing historical and daily vaccination data into your patient records.
All historical COVID-19 Vaccination data captured from Pinnacle, the National Immunisation Management System (NIMS), the National Immunisation Vaccination System (NIVS) and the Health and Justice Information Service (HJIS) will be imported and filed to your system starting Saturday 27th March 2021.
Going forward, you will receive new vaccination data on a daily basis.
What do I have to do?
You do not need to do anything. Vaccination data is received and automatically filed to the patient record. NHS Digital is automatically notified if any of the incoming data cannot be matched to a patient record, for example where a patient has transferred out.

How will my data be filed?
Vaccination data is filed using the current standard COVID-19 vaccination terms (see below). The date on the recording is the event date recorded on the vaccination system and is recorded as "out of practice". All other relevant fields are populated:

65F0100 Administration of first dose of severe acute respiratory syndrome coronavirus 2 vaccine (procedure) (SNOMED CT Concept 1324681000000101)
65F0200 Administration of second dose of severe acute respiratory syndrome coronavirus 2 vaccine (procedure) (SNOMED CT Concept 1324691000000104)
The immunisation notes display a copy of the detailed vaccination details: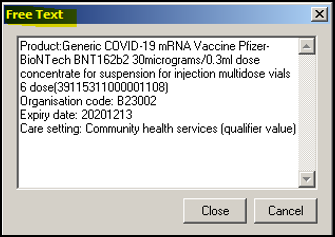 Note – Vaccinations that have been recorded as Not Given are not imported.
Patient consent data is recorded within the Immunisation Consent Structured Data Area (SDA):


What if I have already entered vaccination data – how are duplicates managed?
Any vaccination data already on the patient record is identified and replaced by the data received from NHS Digital where there is a match to all the key data fields and patient registration status. This only applies to data entered in the Immunisation SDA and does not apply to vaccinations recorded as medical histories or therapy.
Important - Please be aware any free text notes you may have entered are replaced by the content of the import file.

What about patients who have dissented?
This data is not being transmitted by NHS Digital. However, explicit consent data is transmitted and is recorded within the Immunisation Consent (SDA) as shown above.

Is adverse reaction data being sent?
At the moment NHS Digital are not sending adverse reaction data, you may, however, receive this data directly from vaccination systems via an email from the central vaccination system.

When can I stop manually recording vaccination data received via email?
As all vaccination data is being routed via NHS Digital via the import files, once the import process commences, you should not manually add the COVID-19 vaccination data received in emails from national systems.

How will I know when we have received new data?
You are not notified when patient records are updated but you can use Clinical Audit results to monitor vaccination data.
Click here to download the Coronavirus Vaccination Monitoring Clinical Audit.

Will the patient's Summary Care Record (SCR) be automatically updated with COVID vaccination data?
Yes. SCRs are automatically updated with COVID vaccination data. However, as you are not logged in with a Smartcard when the import process runs, the summaries are queued. You should follow the usual steps for uploading queued summaries to the Spine on a daily basis as detailed in these instructions.

Click here for guidance on COVID-19 Vaccination Record Queries from NHS Digital.
Click here to access the Coronavirus (COVID-19) Guidance Help Centre.